Expectations were massive: I was prepared to be awed by the beauty and glamour of these larger than life celebrities…Voluptuous Christina, smoldering William Levy, glamorous Eva, and handsome Andy.  And I WAS AWED…. but not by the visuals encompassed by the physical beauty represented on the red carpet, but rather by the humble accomplishments of mi Gente.
The awards honored some outstanding folks!  Like Cheech Marin, exceptionally gifted writer, capturing the civil rights challenges like immigration; funny yet a truly informative advocate using his movies as platforms to bring forth awareness.  And the sad loss of the prolific Lupe Ontiveros,  who represented  "Latinoness" to the world for decades, was graciously commemorated with a Life Time Achievement Award.  Another engaging moment occurred when Christina Aguilera received her ALMA; her inner beauty & voice  far surpassed the outer allure (by the way accented with purple locks interlaced with her signature platinum locks!) Feeding hungry children and raising awareness as a UN Ambassador, all deeply genuine.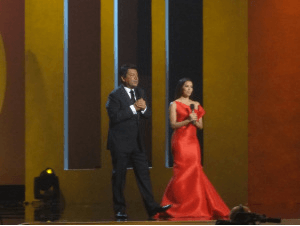 Representative of our duality, was the recognition of our American Latino
Olympic medalists, who proudly competed for the USA, while rejoicing in their Latino Heritage… Clarifying the obvious confusion from George Lopez "Oh…Now it makes sense!! "Explaining how white boy Ryan Lochte showcased his phenomenal physique masterfully engineered by his Cuban Mami!
Partaking in the festivities live was a memorable experience, and bottom-line, the American Latino Media Arts Awards remained true to its mission: Promoting the positive portrayals of Latinos in the Entertainment field in the United States.  The pomp & flare of Hollywood, the hair, diverse beauty and stunning dresses did impress me, but, honestly, I walked away recharged, standing a little taller, proud to belong to this accomplished group of people… Inspired by the efforts and achievements of these admirable Latinos!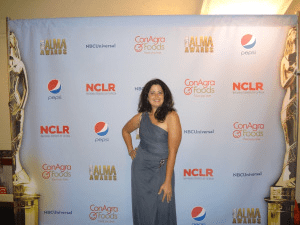 Veronica Cool, Chairwoman of the MD Hispanic Chamber of Commerce, may be reached at vcool@comcast.net.
Contact us TODAY to discuss your needs.
We're ready to help YOU continue your high level of SERVICE to the Latino Community now, when they need it most. Email us at Translations@Coolassociatesllc.com or call (443) 963-9430.