ESSENTIAL TOOLKIT Receives Rave Reviews for Connecting Organizations to the Rapidly Growing Hispanic Segment
Baltimore, MARYLAND. (August 14, 2019) – Hispanic Heritage Month began in the United States in 1968 as an annual week-long commemorative event. In 1988, it expanded to include the four weeks spanning September 15th through October 15th and is intended to recognize the heritage, culture and contributions of generations of those in the U.S. whose ancestors came from Spain, Central and South America, and the Caribbean.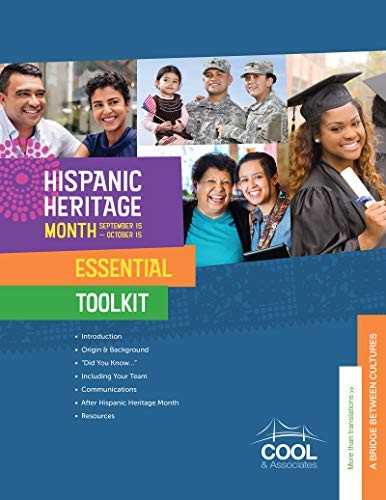 Hispanic buying power has grown to over $1.7 Trillion in the U.S. and 56% of Hispanics consume their online content in both Spanish and English, providing non-Hispanic businesses with tremendous marketing opportunities in both languages. The recently published eBook, "HISPANIC HERITAGE MONTH:  ESSENTIAL TOOLKIT", by Dominican-American entrepreneur and Hispanic strategist Veronica Cool, provides workplace resources to increase cultural awareness and support an inclusive and diverse environment which in turn leads to improved ability to promote products and services to the Hispanic marketplace.
The "HISPANIC HERITAGE MONTH: ESSENTIAL TOOLKIT" offers a concise process in just 12 pages with precise and practical tools including activities and templated materials to use throughout the month for employee engagement.  According to Cool, "Most business owners and department managers know they're missing out on Hispanic consumers, but don't know how to reach them. Having a series of steps is necessary to improve employee appreciation of Hispanics and their culture, then they can learn how to market goods and services to this community."
From America's earliest days, Hispanics have played an important role in the growth and advancement of the U.S., and they continue to embody that pioneering spirit today. They are employees, clients, volunteers, donors, patients and students. The downloadable "ESSENTIAL TOOLKIT" is a unique and powerful tool for entrepreneurs and employers to improve their outreach efforts and celebrate Hispanic Heritage Month with an end-goal in mind.
ABOUT THE BOOK:
The "HISPANIC HERITAGE MONTH: ESSENTIAL TOOLKIT" is a digital e-book that may be acquired directly from Amazon or through https://HispanicToolkit.com.
ABOUT THE AUTHOR:
Veronica Cool is the founder of Cool & Associates LLC, a management consultancy specializing in Hispanic Strategy, Workforce Development, Influencer Marketing, and Community Outreach. A native of the Dominican Republic, she leverages over 20 years of corporate experience to bridge the gap between Latinos and mainstream America. Her many awards for service to the community include the NFL 2018 Hispanic Heritage Leadership Award and the 2018 BBJ Leaders in Diversity. In addition, she is a columnist for The Daily Record, Mundo Latino, and the Huffington Post.