Join Veronica Cool, Melinda and 50+ of the country most powerful, successful, and influential entrepreneurs, innovators and investors as we join together for the first time ever to share exactly how we climbed the ranks from one-women shops doing it all with little to no initial capital to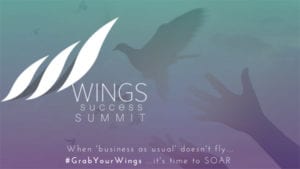 Build $1 billion unicorns
Run 7-8-9 figure businesses
Raise $350mm+ in angel and venture capital between them
Invest a collective $250mm+ in startups, most female-founded
Host top podcasts with 10m+ downloads collectively
Write international and New York Times Bestsellers
We peel back the curtain to unveil exactly how we built our multi-million dollar businesses and grew our influence and social impact on OUR own terms.
Bill will be speaking on the Hispanic Opportunity- because this population is your client and employee – your voter, student, patient.. This is the biggest untapped market!
For this exclusive 5-day event, you don't have to spend thousands of dollars on airfare to fly out since this incredible event will take place ONLINE.
So you can tune in from the comfort of your couch, on the treadmill, over lunch, or wherever you find yourself during the work week.
The best part? It's totally free.
Get the details and register TODAY for the WINGS of Success Summit here.